We support the development of basic automotive functions, that is, "drive", "turn" and "stop" motions, by supplying parts, components and materials for the electric power steering (EPS) and anti-lock braking systems.
Power Steering Components and Materials
"NMX Series" Nd-Fe-B Sintered (Nd-Fe-B radial oriented Ring Magnets)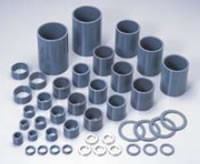 Due to their ring shape, these NMX Series Nd-Fe-B Sintered Magnets with radial anisotropic ring magnetic field orientation can be easily assembled into rotors. In addition, the ring magnets allow skew magnetization, reducing torque.
We also have segment-formed magnets that ensure high magnetic properties and design flexibility, allowing users to select optimum shapes and materials according to applications.
These magnets are suitable for electric power steering (EPS) motors, automatic shift gears and electric brake motors.
MICROLITE® Normal Mode Choke Cores
The MICROLITE® Normal Mode Choke Cores use Fe-based amorphous materials of high saturation flux density and low core loss. They are available in three degrees of permeability 100, 245 and 270. They can be used in environments that are exposed to considerable vibrations and/or in the EMC-compliant filters of various ECU (electric Control Units). In addition, they are suitable for manufacturing more compact coils with lower core loss.
Transmission Components
CVT Belt Material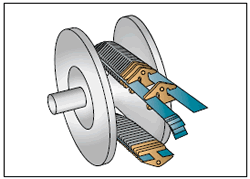 The Continuous Variable Transmission (CVT) system transmits the motive power of an engine to a pulley using a belt, not through variable speed gearing. The global renowned YSS® Steel is available as a material for such belts - the nucleus of the CVT system. With its accumulated alloy-design expertise and knowledge of metallic materials, as well as innovative evaluation techniques, we have succeeded in manufacturing a highly purified version of the YSS® steel that is ideal for CVT belts. This represents one of our efforts to improve the performance of transmission - key components that concern the performance and safety of automobiles.