The facilities for car development continue to evolve daily. Proterial America supports new care development in diverse modalities by leveraging it's long history in the automobile industry.
Development Support Technologies and Products
Integrated Design-in System (IDIS™)
Proterial America recognizes the need for sophisticated design and development facilities as well as processes to support car development worldwide. We continue this ever-evolving support in many diverse ways by calling upon the expertise we have learned our long history in the automotive industry.
Analysis Facilities
For automobiles that require extremely high reliability, their parts, components and materials also require high-level quality. Drawing on its ling experience in the automotive component field and extensive expertise in the materials field, Proterial America endeavors to meet diversified customer needs with its analysis and other testing equipment facilities to supply customers with high-quality components and materials.
Components for Handling Molten Aluminum
Sialon Die-Cast Sleeves
This aluminum die-cast sleeves is made of "Sialon" ceramics, which exceeds other new ceramics in high-temperature strength, thermal shock resistance and erosion resistance.
The inner layer of the sleeve is Sialon, whereas its outer layer is made of a specialized alloy. This dual-layer structure ensures excellent molten metal heat retention and extrusion stability even with low lubrication. With a useful life that is 2-5 times longer than steel sleeves, the Sialon sleeve is often applied for large die-casting machines of the 3,000-ton class to help increase the quality of aluminum alloy casting and minimize defects.
High-Grade Die Materials
The development period of a new car model tends to get shorter every year and a further time reduction in die making is a consistent requisite for car manufactures. With high-quality YSS™ Specialty Steel, Proterial America strives to improve the die life and machinability of tool steel depending upon its applications.
"DAC® Series" Steels for High-Performance Die Casting Dies
With high hot strength and outstanding toughness, our "DAC® Series" specialty steels contribute to quality improvement and the stabilization of die castings. We offer abundant steel variations in response to the diversifying die-casting technology.
The products in this series are widely available for dies including those that emphasize surface touch feel, thin parts, high-strength parts, wheels and high-melting-point aluminum products.
SLD-MAGIC® New Cold-Formed Die Steel
SLD-MAGIC® is compatible with high performance (longer die life) and easy die making, the innovative cold working die steel.
Its excellent machinability can dramatically reduce costs and lead time for manufacturing die molds.
Distortion and dimensional changes due to heat treatment can be reduced compared to currently used grades.
SLD-MAGIC® is also excellent in wear resistance and complies with requirements for repeated surface treatment that is resulting in longer die life.
SLD-MAGIC® is suitable for automotive sheet pressing dies for high-tensile steel sheets and light-electrical pressing dies for stainless steels, plain carbon steels and aluminum sheets.
CENA1™ New Plastic Die Material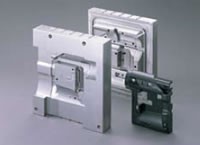 Our CENA1™ new plastic die material has excellent machinability and anti-rust resistance. As it has better anti-gas corrosion and is less likely to rust compared with conventional 40HRC pre-hardened grade, the die life shall be extended and maintenance cost reduced. Moreover, CENA1™ is suitable for weld-less dies for which temperature control is required.
CENA1™ is recommended for dies for products as external frames of PDF (Plasma Display Panel). mobile phones and video camera. Also CENA1™ may be used for the primary attribute in surface touch feel such as a mirror-finished surface, fine creping or an electric discharged surface.