Proterial America have developed conductive separator materials and filters to improve the performance of fuel cells, thereby supporting the propagation of fuel cell automobiles as one type of next-generation eco-friendly car.
Fuel Cell Components and Materials
ZMG™ 232 Separator Material
ZMG™ 232 is a separator material for SOFC (Solid-Oxide Fuel Cell). SOFCs are expected primarily because of the highest power generating efficiency among various types of fuel cells. The requirements of the optimum separator material are resistance to oxidation for long-run operations under high temperature of 900 to 1000°C and a coefficient of thermal expansion similar to that of the electrolyte and also good conductivity. ZMG™ 232 which was developed by Proterial America, is a ferrite base alloy that can meet the needs of higher-performance, large-scale and lower-cost fuel cells.
Metal Porous Sintered Compacts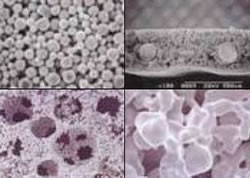 Our porous sintered compacts are manufactured into various forms by the combination of different forming technologies with the power metallurgic technology. Using diversified materials such as corrosion-proof and heat-resistant materials, different sized pores ranging from 0.5-micron micro pores to several millimeter-order large pores can be optimally created according to application.
They are suitable for such applications as air-water separating zones, Pb (lead)-membrane supports and carriers for reformers.