Bimetals
Our unique cold rolling technology and high quality control system allow us to offer over 50 types of bimetals from low to high temperature applications. Typically these bimetals are used in thermostats, disc controls, or snap action circuit breakers.
Clad Metals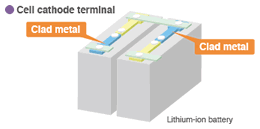 Our clad metals are designed for use in connecting materials with different properties (e.g.,Al and Cu) which contribute to high assembly efficiency and reliability in battery modules (EV/PHV/HEV Cars). Smooth and efficient cell interconnection (resistance welding, ultrasonic welding, and laser welding) improves productivity during cell module assembly and enhances reliability. Our customized clad metal combinations with highly developed structure optimize battery performance.
Sealing Alloys
Sealing materials are used widely in the manufacture of such items as electron tubes, transistors, integrated circuits and cathode ray tubes. For such applications, their expansion coefficient must match- over a broad temperature range - that of the glass or ceramic materials with which they are sealed. And sealed parts must have an excellent mechanical strength. Proterial America's sealing materials are available with the characteristics required to meet individual application needs.
Soft Magnetic Materials
Proterial America permalloys are all superior soft magnetic materials featuring superb magnetic properties and machinability, thus making them ideal for magnetic head cores, shield cases, magnetic shield parts, toroidal cores and high performance electromagnetic valve cores.
Compared to conventional permalloy, Tufperm H series demonstrates greater wear resistance, and less deformation during lamination processing, making it easier to handle with less deterioration in magnetic performance.
YHJ series are semi-hard and hard magnets which can be applied by blanking and bending. These magnets are of energy conservative type alloy and display excellent cost-performance.
YEP-2V offers high saturation flux density and outstanding permeability. In addition, it is remarkably vibration-resistance because of its vibration absorptive properties.
Target Materials

Together with the rapid development of the electronics and other precision industries, sputtering process and vapor-deposition process are being used in a diversity of fields for the production of the required thin films.
Based on manufacturing experience in magnetic and other electronics materials, Proterial America offers unique sputtering target materials, thus responding to increasing demand for a variety of applications.
Semiconductors
We offer high-purity Ti Target with a uniform and fine crystallized microstructure (Grain size: less than 10m) for LSI barrier metals. It is capable of providing large dimensions.
Magnetic Recording
In response to increasing recording densities, we provide unique high quality targets for various magnetic recording media and magnet heads.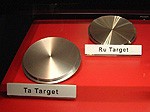 Key Benefit
An Edge in Quality
Available for large scale material, Proterial America target material has a fine uniform microstructure which allows a higher purity and density.