POWERLITE® C-Cores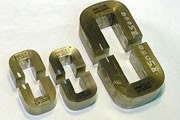 Our POWERLITE® C-Cores are manufactured with iron-based METGLAS® Amorphous Alloy-SA1. Their unique combination of low loss and high saturation flux density take advanced power conditioning aplications to higher performance levels than previously possible with conventional ferromagnetic materials.
Applications
UPS and SMPS Power Factor Correction Chokes
UPS Harmonic Inductors
High Power Outdoor Industrial Ballasts
Welding Power Supplies
High-Speed Power Systems
Auto Inductors
Solar Inverters
Wind Power Inverters
Harmonic Filters
Low Core Loss Cut Cores
Metglas® AMCC Series Cut Core
FINEMET® Nanocrystalline F3CC Series Cut Core
POWERLITE® Forms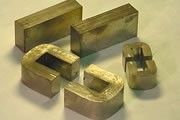 Our POWERLITE® Forms are made by stacking iron-based METGLAS® amorphous alloy 2605SA1 ribbons or laminations. The laminations are held together by an adhesive rated for a continuous operating temperature of 155°C. The amorphous alloy itself has a higher continuous operating temperature. These forms offer a unique combination of high saturation induction (1.56 T), high permeability and low core loss.
Applications
Medium Frequency Inverters
High Power Inverters
Solar Power Inverters, Wind Inverters