Nanocrystalline FINEMET® Cores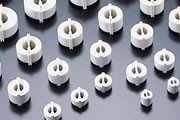 FINEMET® is the first nanocrystalline soft magnetic material in the world to meet EMC requirements. FINEMET®EMC components allow superior technical solutions offering excellent electromagnetic noise suppression performance, size reduction and low energy loss for your application.
Applications
EMI Common Mode Filtering
Telecommunications and Data Communications Interface Transformers
High Accuracy Current and Pulse Transformer Ground Fault Protection Devices
Nanocrystalline FINEMET® Sample Kit Now Available - Please contact us for availability.
MAGNAPERM® High Permeability Cores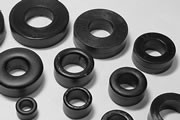 Theses flat loop toroidal cores offer a unique combiation of high permeability, relatively high saturation flux density and extremely low core loss for electronic component designers. Our MAGNAPERM® High Permeability Cores are manufactured with cobalt-based METGLAS® Amorphous alloy 2714A for high frequency applications.
Applications
EMI Common Mode Filtering
Telecommunications and Data Communications Interface Transformers
High Accuracy Current and Pulse Transformer Ground Fault Protection Devices